Hospital and Health Care Facility Damage Restoration
People turn to you in a disaster, but you may be having a disaster yourself.  You can count on us for a fast 24 hour emergency response for hospital fire damage restoration and hospital water damage restoration.  Our pre-staged emergency vehicles loaded with equipment and supplies along with certified flood damage technicians will be at any Los Angeles area medical facility within an hour.  With prompt mitigation and remediation you'll experience far less secondary damage for a quicker return to full operation.
Health Care Facility Disaster Restoration Plans
Expert drying, cleaning, and smoke removal as soon as possible prevents secondary damage such as staining, mold, warping wood, crumbling drywall and long-lasting odors.  Experts agree that any water or fire incident covering more that 32 square feet clearly calls for outside specialists with all the right experience, training, and equipment for the best results.  We have everything it takes to meet IICRC/ANSI S500 standards, including certified applied microbial remediation experts.  They understand that certain areas must meet higher standards of restoration for air quality and surface cleanliness authorization to return damaged areas of your health care facility to operation.
After assessment by a certified inspector we'll create a specific restoration plan of action that will cover the hospital building itself as well as carpet and upholstery cleaning and other contents.  Our specialists will typically begin with containment and isolation of fire and flood damage, including infectious control requirements for flood water, sewage contamination, mold, and pre-existing biohazards.
We'll go the extra mile to become an important component of your long-term disaster planning.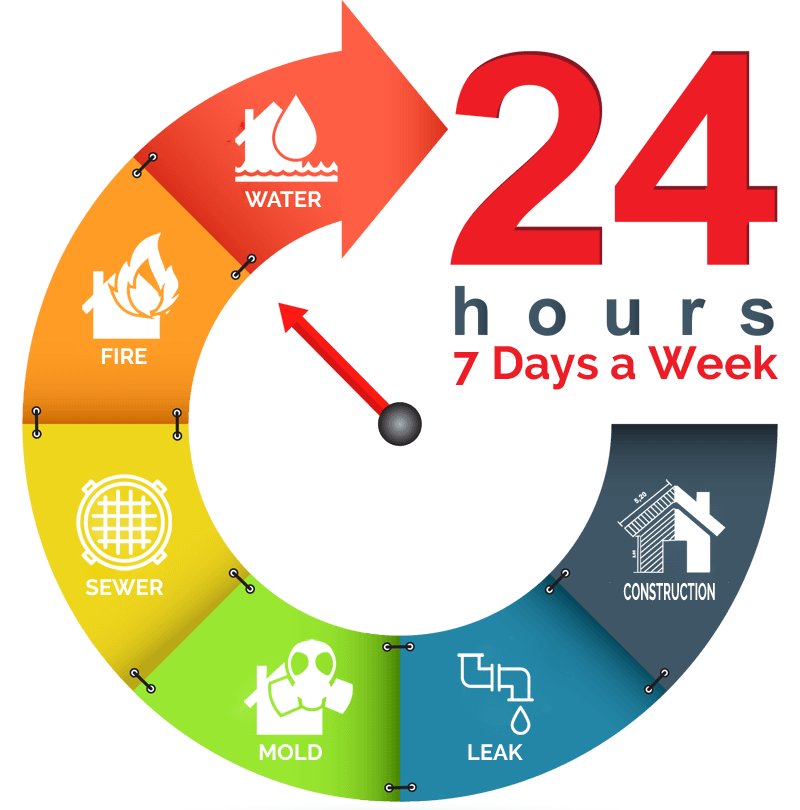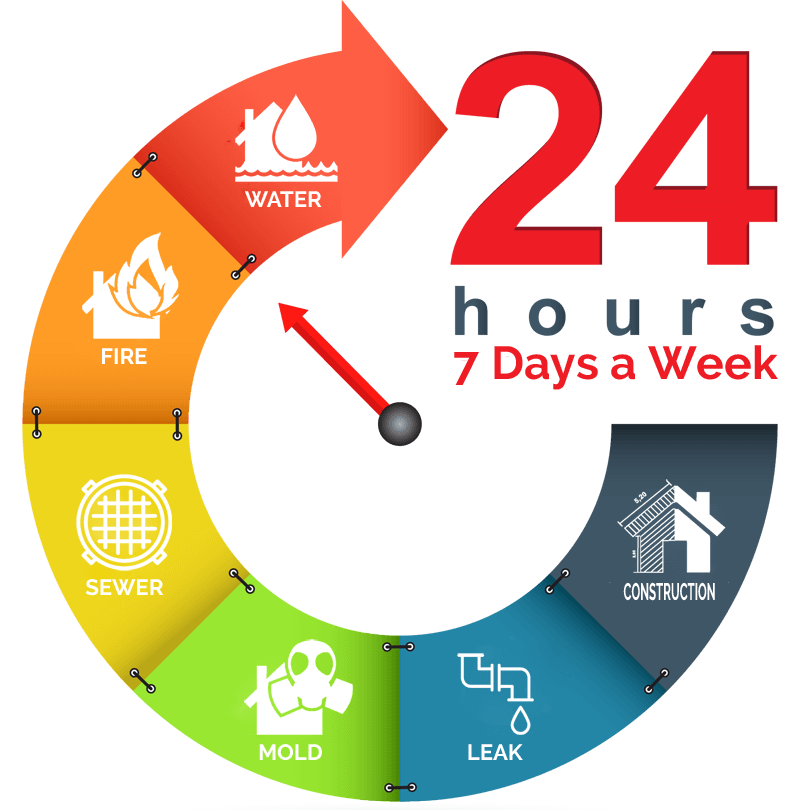 FAST RESPONSE
24/7 Emergency Response
FLOOD DAMAGE EMERGENCY
CONTACT US
1-855-220-1256
Hospital Water Damage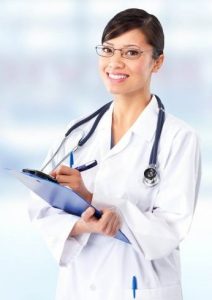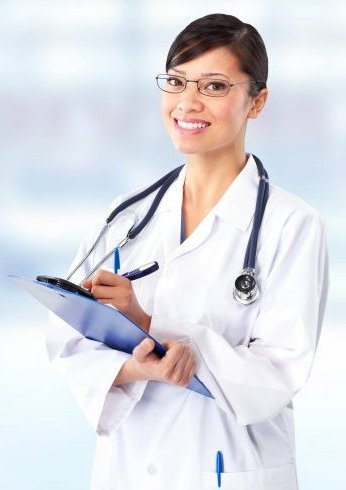 A water intrusion of any source or scale can lead to deterioration and health hazards in as little as 24 hours.  Their prevention begins with identifying the source and properly assessing the overall situation.  The IICRC defines Category 3 to include sewage backups, flood water that has crossed soil, and any water standing for more than 24 hours making them major health hazards.  Clean, "gray," or "black," our hospital water damage specialists will
set up the appropriate isolation against airborne mold and pathogen spread

properly handle sewage cleanup and disposal

use our high-performance vacuum water extraction equipment on floors, walls, and ceilings

deploy an array of equipment such as refrigerant dehumidifiers for structural drying, quickly removing all excess moisture no mater how deeply it's reached.
Along with exceptional disinfection and decontamination they will also take care of carpet and furniture with specialist cleaning and restoration procedures.  Meanwhile our crews deal with  flood cleanup, debris removal, and repairs.
Mold Remediation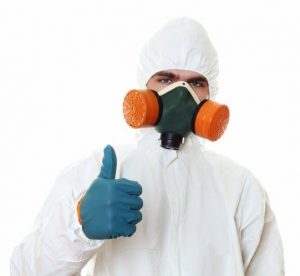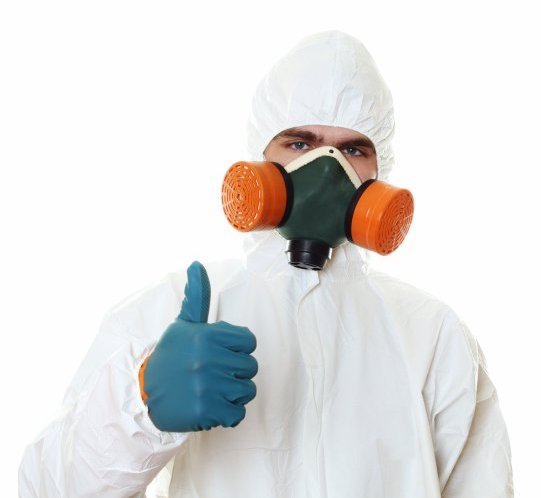 We're also thoroughly experienced in mold remediation, with outstanding licensed mold removal specialists.  After inspection and testing they'll isolate the work area as well set up HEPA air filters and negative-air pressure exhausts to prevent the spread of spores, allergens, and toxins.  Following all guidelines and regulations, wastes will be sealed before transport out of the work area and properly disposed of as hazardous wastes.  Our mold abatement treatments include air duct cleaning and applying non-toxic mildicides.  We'll also neutralize those musty odors.
24/7 Fast Response Water Damage Removal (855) 220-1256

Hospital Fire Damage
Fire damage in hospitals often brings just about all of our services into play in dealing with direct fire destruction, flood damage, and mold abatement along with often extensive smoke damage and odor removal.
Fire Restoration
After our structural, safety, and damage inspections we'll create a specific restoration plan of action.  That begins with securing building openings, structural reinforcements, and isolating unaffected areas.  We'll then proceed with hospital fire damage restoration for the building, carpets and furniture, office equipment and electronics, and other contents.
Smoke Damage
As with hospital water damage restoration, after safety the top priority is preventing the further harm of often extensive smoke damage.  With hundreds of toxic, odor-causing, and corrosive compounds that can even attack glass smoke removal requires extensive expertise and equipment.  Our HEPA air scrubbers remove particles from the air while our soda and dry-ice blasters remove smoke and char from building surfaces.  And our cleaning specialists will apply only the best commercial-grade cleansers and procedures for building contents.
Odor Removal
Smoke is notorious for leaving behind fire odors that can last for years.  That happens when odorous compounds have time to penetrate too deeply for detergents or dry cleaning.  Our immediate and aggressive action prevents that, but smoke also reaches deep within walls and other parts of the structure as well.  Our odor removal technicians will choose the best combination of foggers, ozone generators, and hydroxyl generators to reach and safely break down those odor-causing compounds.
Restoration Masters
Our one goal is to protect and restore your hospital or other health facility so that it can resume normal operations as soon as possible.  With the industry's fastest response 24 hours a day 365 days of the year we're hard to beat.  Properly licensed and fully insured, our numerous highly trained technicians hold certifications in the full range of cleaning and restoration specialties.  And we back them up with skilled cleanup and construction crews as well as state-of-the-art water extraction, structural dry out, air mover, air scrubbing, and odor removal equipment.
Our staff works with all insurance companies, including their local adjusters and claim agents.  We'll bill them directly, and deal with them directly so there's a bit less paperwork and stress for you.  You can rest assured that we know exactly what detailed documentation and mitigation procedures they expect to see for smooth property and contents claims processing.