When you're suffering through a Westlake Village water damage disaster you want everything taken care of right away. Water damage restoration, flood damage removal, mold remediation, storm damage repair, and water damage restoration require expert technicians in a range of specialties, including odor removal and leak detection.
Restoration Masters in an independently owned and operated full service reconstruction company who can take care of everything for you. Without having to coordinate multiple services you'll have peace of mind knowing that nothing is falling through the cracks and industry best practices are being followed to the letter by experienced, highly trained, and certified technicians.
Our dispatchers are ready to take your phone call live 24/7 and we always have in-house technicians on call.  We can deploy them within minutes, and they will be on location in Westlake Village within the hour to inspect your situation and answer your questions. We're experienced, licensed, and insured for commercial as well as residential work.
Professional Westlake Village Restoration Services
From replacing carpet to demolition and reconstruction, our crews are ready to take care of you. We'll begin with an on-site inspection, evaluation, and quote. Proceeding, we'll take immediate action on smoke and water damage mitigation to minimize your losses and assure that insurance coverage requirements are met. Our experts will produce complete and detailed documentation of all damage and actions taken.
24/7 Fast Response Water Damage Removal (805) 285-7054

Water Damage Repair
Standing water or even excess moisture will soon cause wood to warp or split, drywall to disintegrate, and so on. So it's important to remove water and deep-down moisture before they can cause these sorts of secondary destruction. Our water damage restoration services use powerful highly-specialized equipment to safely accomplish in days what would take nature weeks. Our water damage repair service begins with water extraction followed by blowers for surface drying and dehumidifiers for thorough structural dry out.  We'll apply antimicrobials for sanitization and mold abatement, and neutralize odors as needed. Our crews are also ready for any direct water damage repair such as replacing drywall and flooring.
Flood Damage Restoration
Because of good city planning, very few Westlake Village buildings are in danger of natural flooding. But there can be big problems from a host of other sources, including a burst water heater, broken  pipe, or sewage backup. So we're ready with rapid sewage and water removal equipment and sanitation experts. Did you know that even clean water from plumbing can become infested with bacteria and viruses in as little as 24 hours? Restoration Masters is also ready for mud removal and debris cleanup. Our flood damage removal services usually include water damage restoration and often extend to mold removal, odor removal, and building repairs.
Expert Fire & Smoke Damage Removal (805) 285-7054

Fire Damage Restoration
Fire restoration involves a host of services, from securing the building to highly specialized cleaning and treatments. No wonder the aftermath seems so overwhelming. It's often best to include pack out services, removing furniture and other belongings for treatment elsewhere. That also speeds building drying and repair. Our fire damage restoration begins with securing the building and completing a complete inventory of losses and action items. Due to firefighting, water damage repair is often needed, and without prompt mitigation mold remediation may become necessary.
Fire Damage Repair
Beyond structural and surface fire damage repair together with smoke and odor removal, it's also necessary to retrieve property and restore its value. In addition to furniture, that includes electronics, floor coverings, appliances, and so on.
Smoke and Odor Removal
With thousands of compounds produced in a building fire there are hundreds that are toxic, corrosive, or odor-causing.  And smoke can reach just about everywhere, including inside crawl spaces and even home electronics. That's why so much technical expertise is required to select the proper cleaning compounds and methods. Delayed or improper cleaning lets those compounds penetrate deeply into just about any porous material where they can cause odors for years to come.
Westlake Village Best Mold Removal & Remediation
Mold can affect walls, ceilings, carpet, furniture and more. They spread quickly through invisible airborne spores and in addition to allergens many types (especially black mold) release toxins that can cause very serious health concerns.  Due to these issues mold removal companies such as Restoration Masters must be licensed and follow detailed checklists.  Our certified mold remediation experts follow all requirements and recommendations to the letter as they identify, isolate, and remove mold. That's followed by applying mildicide and in many situations air duct cleaning and odor removal.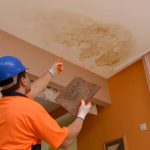 Whether slowly or quickly, water leaks hidden behind walls or under the floor cause extensive harm.  Our leak detection experts armed with the latest test equipment can pinpoint the location without any demolition at all.  That's a big saver on repairs, especially when it comes to a slab leak under a concrete floor.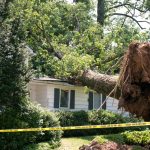 With our full-service experience and staff specialists we're ready to take care of all your storm damage restoration and repair needs, from roof tarping and debris clean up to major storm damage repair and reconstruction.
Westlake Village California Preparedness
The City of Westlake Village covers the eastern area around Westlake Lake and has a population of 8,473 (2014).  The western area is a planned community technically part of Thousand Oaks.  There has been no significant flooding in recent years, but the City did experience a brushfire in April of 2015 calling for 130 firefighters as well as a 6-unit response home fire in August of 2015.