When you're hit by a business or home water damage disaster, you need help fast. But you may not be sure who to turn to. In Burbank, California that's Restoration Masters, a fully licensed and insured restoration contractor for water damage and fire damage removal, leak detection, mold remediation, and storm damage repairs. When you're facing a scene of destruction, every hour counts. Not only do you want the nightmare to be over, but there are immediate safety and health hazards. Plus secondary harm such as a mold outbreak can get going in as little as 24 hours. That's why we always have someone waiting to take your call, 24 hours a day 7 days a week. They're ready to answer your questions, as a few questions themselves to determine what you need, and dispatch the right experts and equipment. We can have someone at your Burbank location in less than an hour for a no-obligation estimate and the peace of mind knowing that fully qualified professionals are taking care of everything.
Burbank Water Damage Insurance Claims
For a smooth claims process you'll need extensive documentation of all losses and their correction or replacement costs. Furthermore insurance companies require that certain mitigation steps be taken immediately to avoid further harm such as warped or cracked wood and locked-in smoke odors. Our years of working directly with all the leading insurance companies has told us exactly what needs to be done. We'll take care of so that you don't need to, taking all the paperwork and burden of proof off your shoulders. And we bill the insurer directly, so you won't need to come up with a big payment to get everything going.
24/7 Fast Response Water Damage Removal (310) 923-7332

Burbank Flood and Water Damage Restoration
From a faucet left on to a major storm, from wet carpet to knee-deep flooding our Burbank flood damage repair services can take care of you. It's absolutely vital to remove all excess moisture, especially what's soaked deeply into various building materials, as quickly as possible. Otherwise you face mold, crumbling drywall, warped and split wood, and so on. All that can start within a single day, and continue to progress for weeks hidden out of view (even though surfaces may seem dry). Mopping, shop-vacs, and carpet cleaners just aren't enough. Did you know that water can wick upwards a foot or more inside walls?
That's why you need true flood damage restoration experts, whether you're suffering from a natural disaster or a plumbing problem. Using our specialized equipment our certified technicians can remove all water in a matter of hours and bring even deep-down moisture into the safe range in a couple of days, often in half the time of others. Along the way we take care of sanitation issues, including sewage cleaning, as well provide effective deodorizing. With or without pack out and storage services, we're ready to restore your furniture and other possessions as well as your home or commercial building. Start to finish, from tarping and board-up to final haul away and disposal, we have the expertise and experience to take care of any and all water damage repair needs.
Expert Fire & Smoke Damage Removal (310) 923-7332

Burbank Fire Damage Restoration
Fire damage restoration includes an even broader range of skills, starting with emergency board-up for windows and doors along with structural shoring. It's often best to use our pack out services to remove furniture and other possessions from further harm at the scene, and then treat them at our secure storage location. Beyond structural and other fire damage repairs, demolition and reconstruction are sometimes the best approach. Either way fire damage restoration usually involves a great deal of debris removal. As a result of firefighting the full suite of water damage removal services may be needed, particularly water extraction, structural drying, mold remediation, and deodorization. It's no wonder that the aftermath leaves most people overwhelmed and discouraged.
Smoke & Odor Removal
As part of fire damage restoration, smoke and odor removal must be done promptly and correctly. Soot and smoke contains thousands of different compounds, many of which are toxic, corrosive, and odor-producing. If not removed quickly they harm many building materials and possessions, and will soon penetrate so deeply that they can no longer be removed. It might seem straightforward, but a great deal of technical know-how is required to thoroughly remove the various types of smoke without damaging room finishes, furniture, and so on. Smoke travels in predictable ways, but ends up in places that most people wouldn't expect such inside home entertainment systems and HVAC ducts. After cleaning we use special equipment to generate ozone or hydroxyl gas that neutralizes odors even inside walls and other impossible to reach places before degrading into eco-friendly oxygen and water.
Burbank's Fast Response Mold Removal & Remediation
Mold can remain hiding deep within walls, under carpet, and in crawl spaces but still requires expert thorough removal.  In addition to damaging building materials, it frequently leads to a range of health problems such as allergies, headaches, and respiratory problems.  Its toxins can even be life-threatening to children, the elderly, and pregnant women.  It's important to know that special paints "kill" stains but do not actually kill mold.  And the last thing mold does while dieing is to release a burst of spores in order to propagate.
Mold removal must be done cautiously due to the health hazards and thoroughly to prevent regrowth.  It's clearly a job for specialists only.  Our certified experts begin mold remediation with inspection and testing, followed by isolating the work area to keep spores and toxins from spreading.  After physical removal (which may include sanding and brushing, HEPA vacuuming, dry-ice blasting, or the complete removal of porous building materials, carpet, and so on) we'll apply non-toxic anti-microbials and in some sealing as further protection against regrowth and neutralize any remaining musty odors.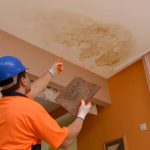 The need for mold repairs and water damage restoration often come from a hidden roof, window, or plumbing leak.  Our leak detection service draws on the latest technology, extensive training, and years of experience to pinpoint the problem non-destructively.  That saves repair cost, whether the leak is in a wall, under a concrete floor (a slab leak), or out in the lawn.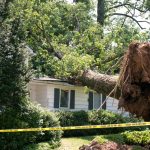 After a storm, damage repair may be as straight forward as debris clean up or require an array of skills such as roof repair, window replacement, carpet cleaning or replacement, and even full water-damage restoration services.  Restoration Masters has a unique combination of expertise to handle all of your storm damage restoration needs.
To Schedule Service Call (310) 923-7332 Now