When you need flood restoration services, we're the company you can count on in Commerce, California. Whether you're facing a major basement flood or just a bathtub overflow call us anytime of the day or night for a fast response and expert services. You can reach a live expert 24 hours a day and 7 days a week. They will dispatch the right technicians and crew within minutes. We have IICRC , RIA and CRA certified specialists in water damage removal, fire damage repairs, smoke and odor removal, structural dry-out and mold remediation.
Immediate action is a must – the first 24 to 48 hours are the most critical in rescuing as many of your belongings as possible and keeping secondary damage to an absolute minimum.


Why Choose Restoration Masters?
We're a locally owned and operated flood company. Fully
licensed and insured
, we know you're experiencing a difficult time, so we take pride in our customer care as well as our technical proficiency and repair skills.
With our flood services you won't be struggling over insurance claims and waiting what sometimes seems like forever for them to reimburse you.  We're experienced with all the major carriers in the Commerce area.  We'll work directly with any insurer, providing all the details they need, and will bill them directly so there won't be any headaches or advanced payments for you.
Our water damage removal technicians and inspectors are certified by the international non-profit leader IICRC as well as by the CRA.  And our licensed mold remediation specialists specialists follow local, state, and EPA standards to the letter.  Finally, our skilled construction crews can take care of repairs, reconstruction, debris clean up, and haul away.  So you know you'll be in good hands.  We'll keep everyone safe and get everything back to normal as soon as possible.
24/7 Fast Response Water Damage Removal (310) 923-7332

Commerce, California Professional Restoration Services
Beyond our extensive training and years of experience, we maintain a large inventory of state-of-the-art equipment for water damage removal for your home as well as its contents.  It all starts with strong pumps for basement floods, followed by unique water extraction gear that's up to twice as effective as competing methods.  For fast and thorough structural dry out our experts then deploy sets of air movers, refrigerant dehumidifiers, and specialized spot heaters then continually monitor progress.  Our dry-ice blasting equipment removes char, soot, and smoke from building surfaces and our eco-friendly ozone generators neutralize all odors regardless of their cause.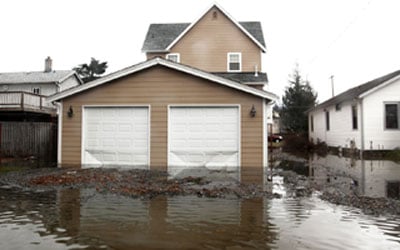 Flood Damage Restoration
We're known for our thoroughly professional flood services.  We're even ready to deal with sewage cleanup from a sewer back-up or toilet overflow.  Even "clean" water becomes contaminated with bacteria and other hazards after about 24 hours, so we'll always pay close attention to sanitation and disinfection.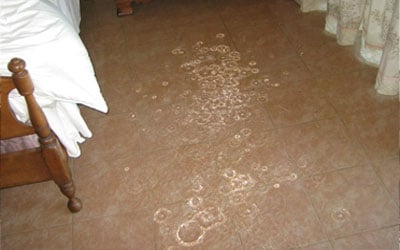 Water Damage Removal
Removing every last bit of liquid and excess moisture as quickly and as thoroughly as possible is the key to preventing further damage such as swelling, warping, and splitting wood…  crumbling plaster and drywall… and so on.  Water damage removal starts with prevention.  Insurance companies require it!  Liquid quickly soaks in all the way to deep inside a building's structure.  Left along it can can continue to cause harm for weeks and weeks. Our expert flood services with all the right equipment for fast structural dry out reduces that to mere days.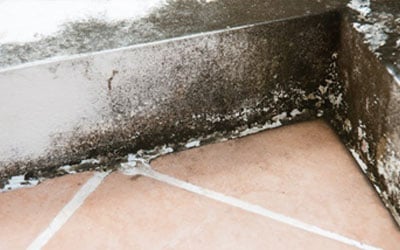 Mold Removal / Remediation
A type of fungus, mold can grow gradually from humidity or plumbing leak, or "blossom" in as little as 24 hours after a water catastrophe.  Not needing light, it actually prefers the darkness inside walls and under flooring.  It's easily spread and often poses life-threatening health hazards, so our licensed mold removal experts take all the recommended precautions to protect everyone and minimize the chances of regrowth.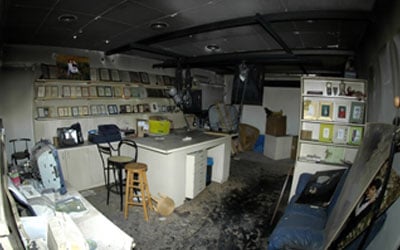 Fire Damage Restoration
Recovery from a blaze can be emotionally challenging for homeowners and business owners, and technically challenging even for experienced fire damage repair experts.  Our crews can take care of securing the building along with any necessary demolition, and then complete repairs and reconstruction to pre-loss conditions.  We'll clean and restore furniture and other possessions as well.
Smoke and Odor Removal
In addition to prompt flood services after the fire hoses are rolled away, immediate smoke and odor removal using exactly the right methods is necessary to keep smoke's corrosive, toxic, and odor-causing compounds from causing further harm or becoming permanently locked in.
Water Damage In Commerce, California? We Can Help 24/7
(877) 246-2951
All insurance companies accepted!