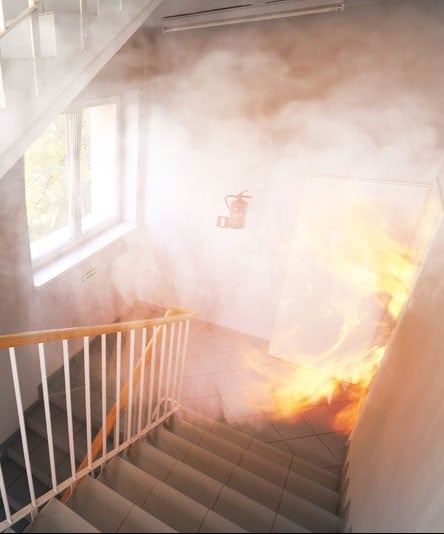 Did you know that some 3,900 Americans die every year from house fires? The National Fire Protection Association reported that fires are reported every 24 seconds in the United States. A fire breaks out every 93 seconds in a home, and someone dies in a home fire every three hours and 10 minutes. Someone is injured in a home fire every 43 minutes.
When an unexpected fire strikes, call the fire department before you do anything else. After you've made sure the fire is under control, contact a property restoration company. While we can't wave a magic wand and make it instantly better, we can offer our services to help you restore your property to its former state.
As you can imagine, fire damage restoration can be a long and complicated process. To help simplify everything, here's a brief breakdown of everything that you need to know about fire damage restoration.
What Is Fire Restoration?
Fire and smoke damage can be a challenge, but the result is always worth it. Fire and smoke repairs can range in scale from small, quick fixes to large-scale projects that last for months and require time and effort. No matter how long it takes, the finished result is always worth it.
Following a devastating fire, it's a good idea for property owners to have their home or business cleaned, repaired, and restored. Fire restoration companies may have to perform several different tasks, from removing debris to deodorizing and demolishing the property and rebuilding. In addition, if the property has experienced water damage as well as fire damage, it's important to note that water damage is often an issue following a fire. Firefighters douse flames with water, so water damage can also be a problem after a fire.
What Is the Fire Damage Restoration Process?
Once it is deemed safe to enter the area, experts will examine the structure to determine how far the fire and smoke extended through the structure. Additionally, they will determine how long the clean-up will take. After the assessment, any necessary repairs will be performed in an effort to restore and rebuild. They will board up broken windows, post a fence around the house, and seal off any part of the roof that is damaged to protect the property from further destruction.
After the fire restoration services are done, they will decide whether to salvage any of the belongings that were destroyed by the fire. If the cost to restore the damaged belongings is less than the cost to replace them, the salvage crew will remove these items.
As mentioned above, water damage follows a fire. Successfully cleaning up a fire requires first removing excess water and then drying the affected areas, which must be done quickly because water that has sat for too long can cause damage to a structure and its contents.
Many sections of the property that are damaged cannot be restored, even during the restoration process. In this case, experts will demolish irreparable sections of drywall and flooring, and ceiling tiles. The crew in charge of restoration will rebuild the affected areas in their place.
Conclusion
We hope this article has helped shed some light on how fire restoration works. As you can see, it can be a long and grueling process depending on the severity of the damage. Be sure to keep everything that you've learned here in mind in case you are ever affected by a fire.
For fire damage restoration in Los Angeles, CA, work with Restoration Masters today. Our fire and water damage services support residential and commercial properties in Los Angeles, Orange, Riverside, and Ventura counties. Contact us today for dependable services, quality workmanship, and certified technicians.