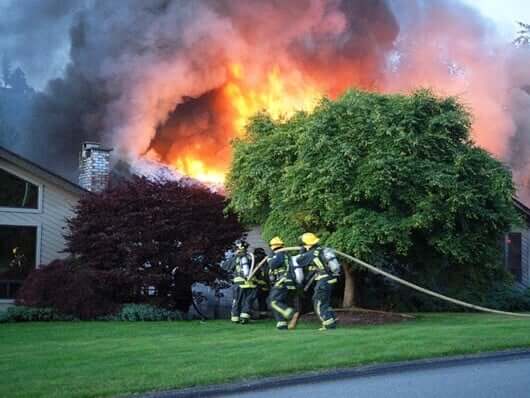 When a fire erupts on your premises, the destruction it can wreak is extensive. Not only can the blaze consume anything in its path, but the acidic byproducts it leaves behind can continue to erode materials even after the fire has been put out.
When a fire is put out, the water used to stop it can also cause damage to furniture, walls, and other possessions. Fire hoses have a lot of power and pressure, which can damage the area they are used in. Mold spores can quickly take hold of your home, creating a hazardous environment. Within 24 hours, they can begin to eat away at the walls, floors, and wood, weakening the structure of your home and making the damage even worse. 
After a fire, it is crucial to address the water damage that follows quickly and thoroughly:
Check the Safety of the Property 
Before you step back into your home after a fire, you should make sure it is safe to do so. Ensure that you have checked with the fire department that it is safe to return before you do. 
Take a close look at the roof, walls, stairs, ceiling, and floors of your home to see if there is any evidence of damage. Check for signs of water damage, such as electrical wiring issues, as this can indicate that the home is unsafe to enter.
Get in Touch with Your Insurance Provider 
Once the fire is safe to enter, contact your insurance provider. Let them know about the fire and the destruction it caused. An adjuster may need to view the damage before repairs begin, so your agent may suggest this. By talking to your insurance rep, you can discover the maximum amount of money you can spend on fixing any damages and the restrictions your policy sets.
Be sure to check with your insurance provider to determine if you can receive compensation for temporary housing and meals while your home is being repaired. You may need to find another place to stay during the repairs, and your insurance company may be able to cover the costs.
Employ the Right Professionals 
After filing an insurance claim for damage caused by fire or water to your property, getting help from a restoration company is a good idea. The professionals will take care of repairs and maintenance to your home and can help you work with your insurance provider to manage the claim.
It is essential to act quickly when dealing with water damage or mold, as they can spread rapidly and cause more harm if not taken care of immediately. Restoration services can help to address the mold and other damage and also help to prevent it from coming back.
Professionals will thoroughly examine your property to determine the extent of the damage, suggest a plan of action to restore the property to its original condition, and then take the necessary steps to remove the water and fix the damage caused.
Final Thoughts 
If your home has recently been affected by a fire, it is important to take action quickly to minimize further damage. The fire itself may have caused some destruction, but the water used to put it out can also cause additional damage, such as weakening the structure of the property and encouraging mold growth which can be a health hazard. 
It is also vital to act quickly and contact a water damage restoration company when water damage occurs. A team of experts is prepared to assess the damage, create the best course of action, and carry out the necessary repairs to restore your home to its pre-damage condition. Timely action reduces the risk of further damage and ensures the safety of those living in the household.
Do you need help with water damage restoration in Fullerton? Turn to Restoration Masters, an independent, locally owned and operated company serving Los Angeles, Orange, Riverside, and Ventura counties with full-service restoration for both residential and commercial buildings. Request a quote!