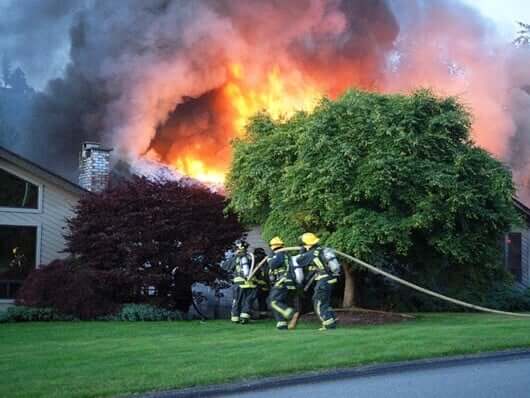 Experiencing a home fire is never an ordeal for anyone who goes through such an event and faces the aftermath. As the single most common disaster in the US, it's clear that experiencing a blaze at home bears serious consequences that can lead to life-altering and threatening situations. 
Unfortunately, the majority of Americans don't actually realize that home fires are a common threat to their safety, putting them at great risk of being unprepared in prevention and post-fire measures. 
The dangers of house fires
Over the years, health and safety experts have become particular when it comes to safety and awareness over house fires because they can cause lots of damage throughout the entire house, both inside and out. Beyond full burning, however, the dangers of house fires can even extend over to rooms that were never engulfed in flames as the conditions of such an event can: 
Melt plastic

Cause your paint to blister

Cause severe stress to your glass windows

Ruin appliances, equipment, and personal belongings beyond repair
A step-by-step checklist on what to do after a house fire
After suffering a house fire, it's important that you take the necessary steps to ensure that you, your family, and your home recover as best as possible. Considering that there are many things that go on after a home battle with an accidental flame, it's important to stay on top of what matters until you return to normalcy. 
If you've recently experienced a fire at home, here is a quick step-by-step guide that will help you handle the recovery process with ease: 
Step #1: Check, check, check
The very first thing you need to do when your home experiences a fire is to check on your family members to ensure that anyone who needs medical attention receives the care and treatment they need. After checking with your family and ensuring that everyone is well taken care of, you must check on the overall status of your home and inspect all of your valuables to see if you lost key items in the fire.
Step #2: Get in touch with your insurance company
Once the smoke is clear, and your home is stable and fire-free, it's important to get in touch with your home insurance company to start the event documentation process so that your insurance claim is well underway. Aside from ensuring that you get your money's worth, it's best practice to call your agent immediately so that you can sort out key topics like emergency lodging and living expenses in the meantime.
Step #3: Collect and organize your possessions
While your insurance agent sorts things out with your policy and gets the claim process started, it's important that you start glossing through the items in your home to determine which of your possessions are undamaged. Often, this process is recommended as it helps you keep track of what you need to store and brush up on what items you'll need to include in your claim. 
Step #4: Choose a fire damage restoration company to work with
Considering that your end goal after experiencing a house fire is to return to a life of normalcy, comfort, and security, it's best to get started on finding a fire damage restoration expert that will help restore your home. By enlisting the services of a professional from Restoration Masters, you'll be able to ensure that you're on the right track to recovery since doing so will ensure that every inch of your home is brought back to life! 
Conclusion
Dealing with a house fire can be a difficult and traumatic experience because of what you and your family will have to go through from beginning to end. By taking the time to follow this four-step guide, you'll easily get to ensure that your home and entire life easily hop back on track to normalcy and familiarity again in no time! 
Restoration Masters provides top-quality fire damage restoration services in Los Angeles, CA, for various types of homes. Get in touch with us today to learn more about how we can help!