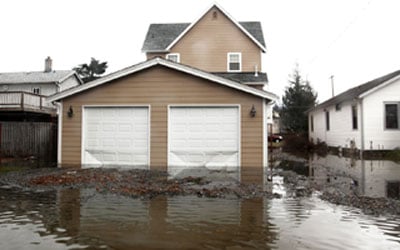 Sewer backups can occur both inside and outside of the property. It might be caused by tree root obstructions or clogged pipes on the interior. However, the situation might be considerably worse from the outside. When there is a strong thunderstorm, the door to floods is always left open. This is the result of a sewer backlog. When the underground drainage lines overflow, water soon fills the streets. Then, all of a sudden, you have a waterfall coming into your house!
How to Deal With a Flooded Home
You're in for a headache unless you contact a flood cleanup professional right after a calamity.
You may be strolling around your house with water up to your ankles. As if this wasn't bad enough, it gets much worse. Water damage or even mold will be left behind after the water has been drained. Flooding is one of every homeowner's biggest nightmares. 
Water damage from sewage backups may cost a person their valuable goods or perhaps their home, depending on the amount of water. So, what are you going to do to clear up this mess? Here are some measures to take:
Remove everything from your floors and dry them out. The first thing you should do is call a professional. They will help you clean up the mess and ensure that floodwaters aren't spreading to other areas in your home.
Ensure that there are no electrical hazards. If the floodwaters have risen to the ceiling, there could potentially be something wrong with your home's electrical wiring. The best thing you can do is to call a professional. They will be able to look into the situation and determine if the wiring needs to be checked out by a professional.
Submit a Damage Claim with your insurance company. Notifying your provider is usually a good idea, even if you're unsure whether you're covered under your insurance. A representative will be dispatched to evaluate the damage to your house and offer you the appropriate level of coverage based on their findings.
Save your expenditure receipts. By saving your receipts, you will be able to document the expenses that you've taken on to clean up your home. This will help with the back and forth between your insurance provider and you.
Call a flood cleanup professional. Disasters such as sewer backups are no laughing matter. They are extremely hazardous and can cause a full-blown mold outbreak. If you can't afford the cleanup of your home by yourself, then you should consider calling in a professional.
Conclusion
As you can see, many different types of water damage can occur in a home or business. It is best to avoid these situations by taking preventive measures. To keep your home safe from hazardous situations, you must know how to check for leaks, how to shut off your water valve, and when to call a professional.
The next time you have a flood or a water problem, you'll know what to do. You'll be safe and make the right decisions to keep your home in excellent condition! Your family and your home will be grateful.
Restoration Masters is a full-service restoration expert for both residential and commercial properties. Reach out to us for dependable, quality, and certified water damage repair in Lancaster, CA. We can be there in just 60 minutes—contact us today!